Actualize Your Dream of Becoming a Software Developer
Are you nterested in starting a career as a software developer or becoming a software entrepreneur?
Find out how you can get started with Moat Academy for developers. Read the details below…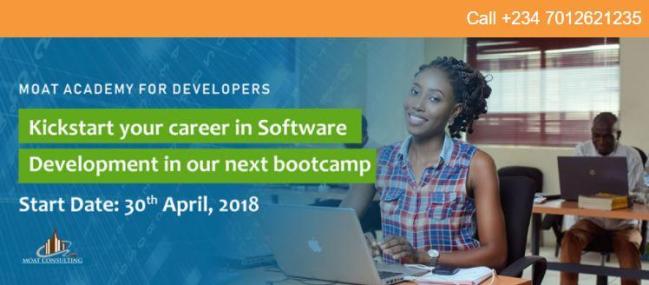 Want a career as a Software Developer?
Will you like to be like Mariam, who was at Moat Academy and now works as a software developer in a technology company, Concept Nova Ltd?
Software Entrepreneur?
Or Like Wisdom that was also at Moat Academy and has now become an entrepreneur in the software industry having developed betforum.ng ?
Our alumni work in various technology companies across the country such as Interswitch , Insidify and so on
Apply before April 24, 2018 to be part of our next cohort (training starts on April 30, 2018).
Successful Applicants will be adequately trained to be able to handle the following responsibilities as a full stack software developer:
Web Application Front End Development using HTML/HTML5, CSS/CSS3, Javascript, Jquery and building responsive website using Bootstrap classes and
Server Side Programming: MySQL Database modeling and handling, PHP Programming using OOP and Framework, AJAX technologies
Participants at the bootcamp will be able to develop a Web Application of their choice as their final bootcamp project.
Click here to watch the project presentation of the last Cohort.
Details of Bootcamp
Duration: 10 Weeks
Time: Monday to Friday 9:00am to 3:00pm
Location: 2 Irewole Avenue, Opebi, Lagos State
Telephone:+234 7012621235
Email: [email protected]
www.moatacademy.com